Product Details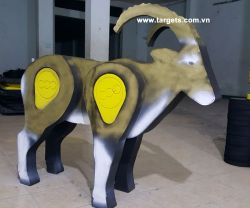 Check it out !
Length: 130cm / 51,2 "
Height : 100cm / 39" ( not including antlers )
Body Depth : 34cm / 13,4"
Weight: 13kgs
Material: EVA Foam
The Ibex is a type of wild goat which live in mountains. He looks huge with impressive horns.
His color is beautiful and be a great target in 3D archery.
Specially, he can be assembled legs, body and centers which bring you the easy of moving and storage.
He has 2 replacement shooting centers with rings to maxmum the targets using.
This is really a smart version and good choice for an animal targets with cheap replacement centers price.
This is the unique animal targets version which are improved and registered by Fastgo Co., LTD
Kindly to contact us at info@targets.com.vn for the competitive price and more information
if you want to custom build your high quality animal targets.