Product Details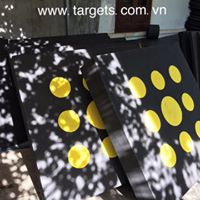 Measurement: 125cm x 125cm x 20cm and 08 Ø16cm ; 01 Ø 25cm middle
This brand new target is created from the 4 holes butts but allows archers who being solo
or from 2 up or from 3 up or shooting from 4 up from all distances.
Furthermore, this targets can be turnned as a 90 degree rotation to shoot without changing anything.
This is a really clever butt and good value at the competitive price.
As our EVA targets, standard with 20cm thickness centers but you can upgrade to 30cm thickness centers anytime.